In 2012, I looked into the possibilities of my own cigar; having not come from a tobacco family, many people were skeptical of me succeeding. I did not back down from the challenge. I researched what I wanted my cigar to taste like and the body that I wanted my cigar to be.
After knowing how I would like my blend to  be, the next challenge was finding who could produce the taste I wanted to achieve.
I worked with several manufacturers on the market to no success. When a representative who frequents the shop offered to help. Finally, after a few more rounds of samples and further refining the blend, a trip to the factory and testing the first 400 samples with smokers whose palates I trusted in the lounge, we had something.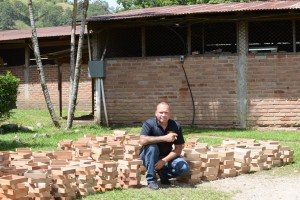 "The Chief" was born, blended, boxed and in market as of June 26th, 2015, which was released at a standing room only event in partnership with Rocky Patel.
I owe a  big thank you to Alyson and Rocky from Rocky Patel Cigars for their help and guidance in helping to bring "The Chief" to life.